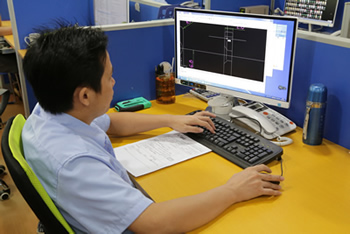 Our engineering department consists of 20 employees who are responsible for making sure our products as we intend them to. Our engineers are experts in all things electrical, and work regularly with 3rd party certification labs in order to get your products to market as quickly a s possible.
Operations
---
Once an order is placed, many different departments work together to carry it through the production process. With decades of combined manufacturing experience, each team member brings unique and valuable skills to this crucial process. By following a specific set of steps every time, they strive to ensure that your goods get to on time, with minimal complications, and free of defects. The operations team manages production, quality control, packaging and shipping logistics. The team follows a strict flowchart to ensure that nothing is missed and unnecessary delays are avoided.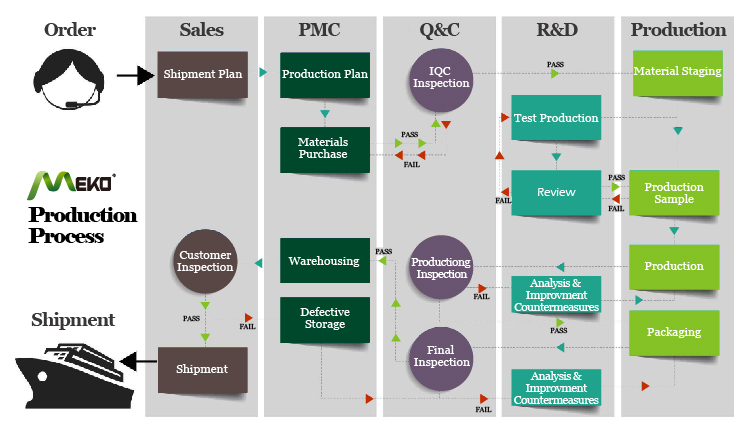 Packaging
---
Meko has an in-house graphic design & packaging team that produces artwork for our products as required. For many retailers, the packaging is the only salesman available to convey product photos and specs. Poorly designed color packaging translates directly to lower sales and returns. Our marketing and design team has years of experience with point of purchase displays and product packaging, and produces clear and eye-catching graphics for a variety of products. Keeping up with UPC codes, packaging dimensions, and multiple languages intended for multiple countries can quickly become a confusing and difficult task. By using Meko's experienced in-house graphic design and packaging team, you can be confident in knowing that the design of your box will inspire purchases from your targeted consumers..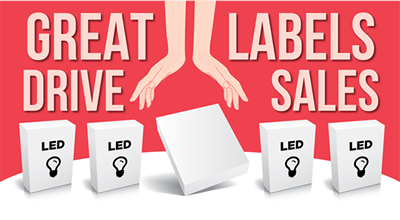 Production
---

Once an order is ready to be produced, components are moved to the 15,000 sq. meter area consisting 3 floors. Each line is meticulously planned by the operations team, to maximize efficiency and daily output. QCs, managers, and team members wear color-coded hats to quickly identify each other.
Our die casting & metal fabrication facility, located about 20 minutes from the main campus, is responsible for the production of various component housings, & other metal parts. We use a variety of casting, stamping, folding and computer controlled machines to produce lamp housings of a higher standard. By controlling as many outside processes as possible, this allows us to keep the unit costs low and reduce the amount of overall defects.

Quality Control
---

The quality control process begins before an order is even placed. Materials, specifications and production plans are checked and double checked, then materials are ordered. Before incoming materials ever make it to the production line, they are closely scrutinized by the IQC team in a specialized laboratory. Depending on the type of component, a sample set of goods are tested from each batch. If any part is tested outside of its working parameters, the entire batch is flagged and returned to the vendor..
Research & Development
---
Meko's research and development department continue to create new products, while keeping up with the advancing technology throughout the LED industry.The four research & development teams of over 40 people are tasked with providing¬ innovative, relevant, and well made designs, in order to keep up in such a competitive market. Meko's research and development teams regularly attend trade shows and actively carry out detailed market research to create unique, inventive products.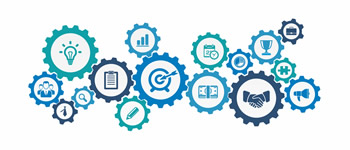 Sales Team
---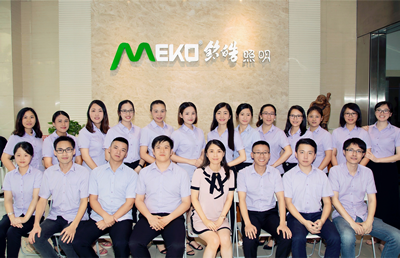 Shipping an order on time and without damages or defective pieces is just important as any step in manufacturing process. Meko follows strict production workflow timetables that each department must adhere to throughout every stage.
Our sales support and logistics team has years of experience negotiating all the nuances of international trade, including customs, freight, port, and tax issues. They are always happy to help!
GETTING
THE RIGHT PRODUCTS
RIGHT ON TIME
Our Sales team has a staff of nearly 20, each dedicated to finding the right product for you. They work closely with the R&D and operations team to develop new products and programs regularly. All of them are proficient in English and are trained regularly to improve and excel in their field.